The video above is Calvin's Roth fiddle with the Aceto Violin Pickup. It is plugged into a simple PA System with no effects. It's so easy. Plug it in, set it flat and you have a great fiddle sound.You be the judge of the sound...
I have this pickup installed on my favorite acoustic fiddle (Roth #54) and I love it. I highly recommend it for you. I use the chinrest jack as this is one less clamp on the fiddle. Look closely at the picture & under the chinrest & you'll see the 1/4" jack. You get the ebony chinrest & 1/4" jack built in.
In order to purchase this Aceto Violin Pickup, please contact us at calvinvollrath@gmail.com to discuss payment options.
$525.00 CDN
Shipping is included (in Canada, extra for International shipping). GST is included in price.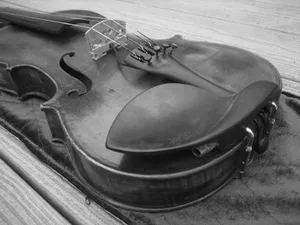 Aceto / Violect Deluxe Violin Pickup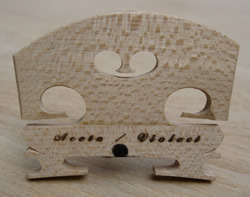 For over twenty-five years, Eric Aceto has been exploring the boundaries of amplified acoustic instruments, developing the Violin, Guitar and Mandolin family instruments.
Up until now, his instruments have always incorporated the cutting-edge pickup technology of the day. Recent design projects have led him to the invention of his own exciting new pickup system. Twin sensing elements are strategically placed to optimize the string-to-body resonance of their instruments. 
He is thrilled with the sound of this new innovative system and considers it a major step forward in violin amplification. The Aceto/Violect Violin Pickup System is now available as a retro-fit for use on all acoustic violins. 

In response to Eric's many customers, who loved the amplified sound of his standard pickup and who were asking for a system that had negligible effect on the instrument acoustically, he has redesigned the standard pickup to have a narrower foot width and a more solid structure.
Using high quality bridge blanks and well aged Bosnian bridge wood, the top portion is carefully mortised and firmly fixed into the base which houses the two sensors. This two-piece construction enables him to place the pickups exactly where he wants in relation to the feet, giving the best response and most open tone, while still holding up acoustically. 
This bridge pickup is the model is now offered for use on all violins. This version is strong enough to be used directly into a combo style amp. When well fit by a competent violin repairman, the tone is uncompromising and faithful to even the finest of acoustic instruments.
You can believe me when I say I've tried many different types of fiddle pickups over the years and paid a lot more than this one costs and this is my absolute favorite. It's balance between the low strings and the high strings is so true. It's as close to the sound of my fiddle, played acoustically, as I ever had before. I get nothing but compliments from people asking what I use. I'm happy and the audience is happy. What more could you ask for? Save yourself the time & money and get this pick up. It'll be the only one you'll ever need or want, I'm sure of that.