Issue 27 - March 1, 2022
 
BREAKING NEWS!
Calvin is excited to announce a new initiative...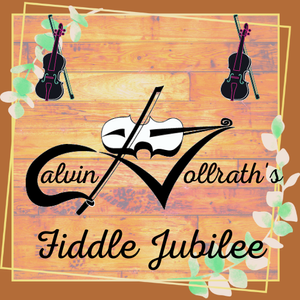 A monthly online show via YouTube featuring Calvin Vollrath & Special Guests. Every month a new ½ hour episode will be launched. 
Tune into Episode #1 premiering on March 6, 2022 at 2:00 pm MST featuring guests Mark Sullivan & Patrick Bell.
Click on the link below to go to YouTube to set a reminder (bell icon) and be notified of the episode:
-If viewing on a desktop, you will be taken directly to the YouTube page where you will see the bell icon, click on 'Set Reminder'. 
-If you are viewing on a device, you will need to 'OPEN APP' to view in the YouTube app. There you will find the bell to 'Set Reminder', simply click on it and the notice will change to 'Reminder On'.
While you're on Calvin's YouTube channel, please also click on the Subscribe button to be notified of future episodes. This is where the show will be airing. If you can get YouTube on your smart TV as a channel or by streaming, that's a great place to watch the show. Feel free to share this with all your friends.
Calvin Vollrath's Fiddle Jubilee - YouTube Concert
---
Calvin Vollrath Tuesday Online Workshop (CV TOW)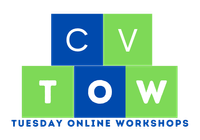 Calvin is pleased to be offering a 2nd session of video fiddle lessons, starting March 1, 2022.  A 1-hr lesson held on the first Tuesday of every month for 8 months (Mar-Jun & Sept-Dec).
For this 2nd session, Calvin is adding a monthly 'Tips & Techniques' along with the new tune in a variety of different styles offered every month.
There are 2 purchase options available:
Subscribe to the 8-mth session (March-Dec) and get access to the videos following the workshop for your review. $140/8-month.
Purchase individual workshops. (No access to videos). $20/lesson

Both registration options come with the Sheet Music (Notes or TAB), the MP3 & Backing Track of the tune, all for one low fee.
Because all lessons are recorded, you can sign up anytime. Late registrants will be given access to any previous video lessons and support material. Read all about it here.
---
Camp Calvin 2022
While restrictions are slowly being lifted, we are cautiously optimistic that we will be able to host a 'Live' fiddle camp this summer. Details are still being finalized. Stay tuned and SAVE THE DATE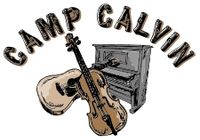 JULY 18 - 21, 2022
www.campcalvin.ca
---
Save the Roost - A 'Fun' Raising Event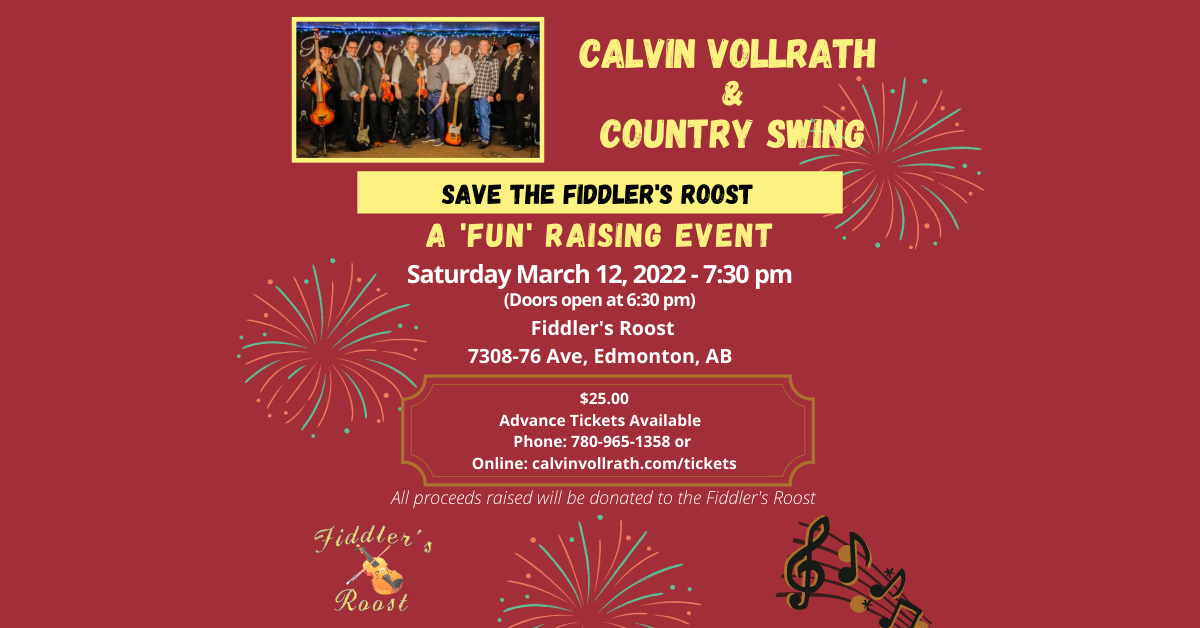 Calvin Vollrath & Country Swing host a monthly dance at the Fiddler's Roost in Edmonton, a great little live-music venue. The Fiddler's Roost is struggling financially due to the pandemic so the March dance is dedicated to the Fiddler's Roost with all proceeds from the evening donated to the Fiddler's Roost. We are doing what we can to help and we're asking for your help.
Come on out Saturday March 12, 2022 for a 'Fun' raising event and support a great cause. We've got some great prizes and we promise you a good time.
If you cannot make it but would still like to offer your support, you can go to the GoFundme page. Thanks in advance.
Advance tickets are available at www.calvinvollrath.com/tickets or call Bernie at 780-965-1358 to get yours.  Let's fill the place & Have some Fun!
---
La chronique à Calvin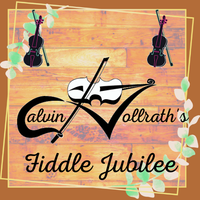 Calvin est fier d'annoncer une nouvelle initiative... une émission mensuelle sur YouTube mettant en vedette Calvin Vollrath et des invités spéciaux. Une fois par mois, un nouvel épisode sera lancé avec le premier cédulé pour le 6 mars 2022 à 14h00 (Heure des Rocheuses). Cliquez le lien pour vous rendre sur la chaine YouTube à Calvin. Pendant que vous êtes là, veuillez svp vous 'Abonner' pour être avisé lorsque les prochains émissions seront lancés.
Cliquez ici pour le lien YouTube et l'emission: «Calvin Vollrath's Fiddle Jubilee»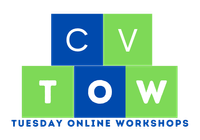 Calvin présente une 2e session de CV TOW, un cours de violon d'une heure offert tous les premier mardis du mois pendant 8 mois, à partir du 1er mars 2022 sur Zoom. En plus d'une nouvelle pièce de musique au niveau intermédiaire, Calvin ajoutera des conseils pour vous améliorer. Inscrivez-vous chaque mois à $20/mois ou abonnez-vous à la série pour $140 et accédez aux vidéos par la suite.
Inscrivez-vous dès aujourd'hui ici à www.campcalvin.ca/CVTOW.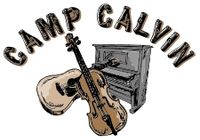 Alors que les restrictions se lèves, nous sommes encouragé à la possibilité d'organiser un camp de violon « en direct » cet été. Nous sommes encore à finaliser les détails.
Marquez vos calendriers!  18 - 22, 2022!  www.campcalvin.ca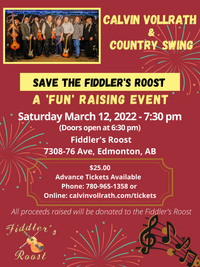 Calvin Vollrath et Country Swing organisent une danse mensuelle au «Fiddler's Roost» à Edmonton, une superbe petite salle de spectacle. En raison de la pandémie, ce club se retrouve en difficulté financière donc la danse de mars est dédié à "Sauvez le Fiddler's Roost" où tous les profits de la soirée y seront versés.  Rendez-vous samedi le 12 mars 2022 pour cet événement spéciale. Si vous ne pouvez pas vous rendre mais vous souhaitez offrir votre soutien, votre don sera la bienvenue à GoFundme, on vous remerci d'avance. Vous pouvez vous procurer vos billets d'avance en ligne à www.calvinvollrath.com/tickets ou en composant le 780-965-1358.
Disclaimer: You are receiving this because at some point we have communicated through email. Our goal is to inform - not to annoy, therefore if you wish to no longer receive this email, simply unsubscribe below.
N.B. Vous recevez ce bulletin car à un moment donné, nous avons communiqué via email. Notre but est de vous informer, pas de vous ennuyer, alors si vous désirez de ne plus recevoir ce bulletin, veuillez cliquez sur 'Unsubscribe' ci-dessous.